Gifting is one of the most challenging things a mother can do for her baby girl. Although there is a lot of stuff to buy for baby girls, you want the best among the best. Below is a collection of baby girl gifts to choose from.
Adorable baby girl gift
Girls are easy to gift. There are a lot of stuff available, cute and beautiful items to wrap. However, babies are still unaware of what is good and what is not, what is beautiful and what is ugly. So, as a gift giver, you have all the choices and decisions of what to wrap.
Babies are still uncautious of all the items around. So, do the thinking, such as choosing the right clothes, toys, and blankets to bath essentials. There is no right item for girls when choosing bath essentials. So, it is all up to you on which flavor of shampoo and which ingredient is best.
However, make sure that these are made from organic ingredients, for sensitive and delicate baby skin.
Unique baby girl clothing
Are there any unique baby girl clothes? Yes, there is. In this new generation, babies can still be in fashion. You can let the baby wear unique and cute styles of colors, according to your choice of color and design. But, ensure that the clothes are comfy to wear.
Take note, a baby's skin is so delicate and sensitive that choosing organic-made clothes is a perfect choice. It can make the skin feel safe and relaxed.
Toys for baby girls
One of the best toys for baby girls is teethers. These are cute toys that are designed for baby-biting moments. So, instead of giving them something to bite, why not give teethers? It is the proper toy for baby-biting, which is the safest of them all.
Of course, the choice of teether shape considers gender. Heart-shaped teethers are perfect for girls. Star-shaped teethers can also be a good choice, but it might fall for neutral teethers.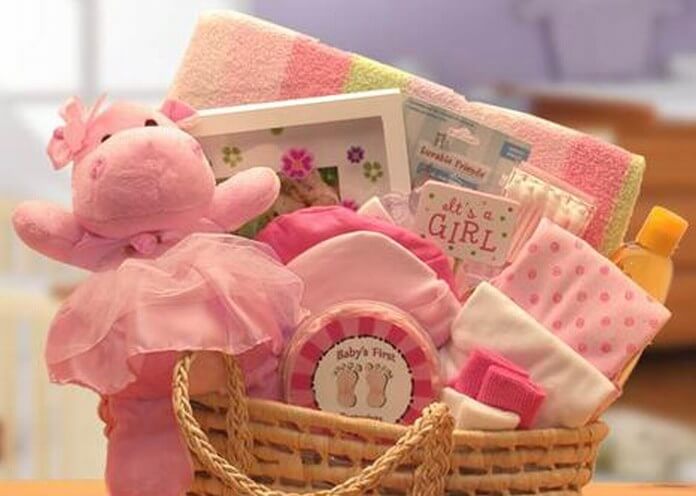 Cute clothes and accessories
A collection of cute clothes for baby girls are also available. A baby girl gift box includes:
Beautiful clothes
Cute pair of socks
Teether
Shampoo
Bib
Cap
Cute teddy bear
You can also have the 3-piece newborn baby set: cap, socks, and baby gloves.
Cotton baby bib
Some of you might not be aware of a good baby bib. A good baby bib should be comfy and lightweight. The organic-made baby bib is comfortable to wear and not itchy. It indicates that the baby will have a long hour of wearing a baby bib without feeling uncomfortable on the neck and chest part.
The cute style and print of the cotton bib make a baby looks more adorable while wearing it.
Baby moisture lotion
Who says babies can't have their lotion? Well, it may not be advised for them to have lotion, but baby lotion helps moisturize baby skin. The choice of a good baby lotion is not a problem since it is included in the baby girl gift set.